Fantasize out of this world adornments of pearls, flowers and seashells paired with natural makeup inspirations. Shining a light on the magical and dreamy storytelling created by international beauty artist and educator to the next generation of makeup artists, Marika D' Auteuil, as she beautifully defies the mixed opinions of AI art and its potentials of the future. Showcasing that the beauty artist talent perspective goes far beyond prepping dewy skin and glistening the eyes.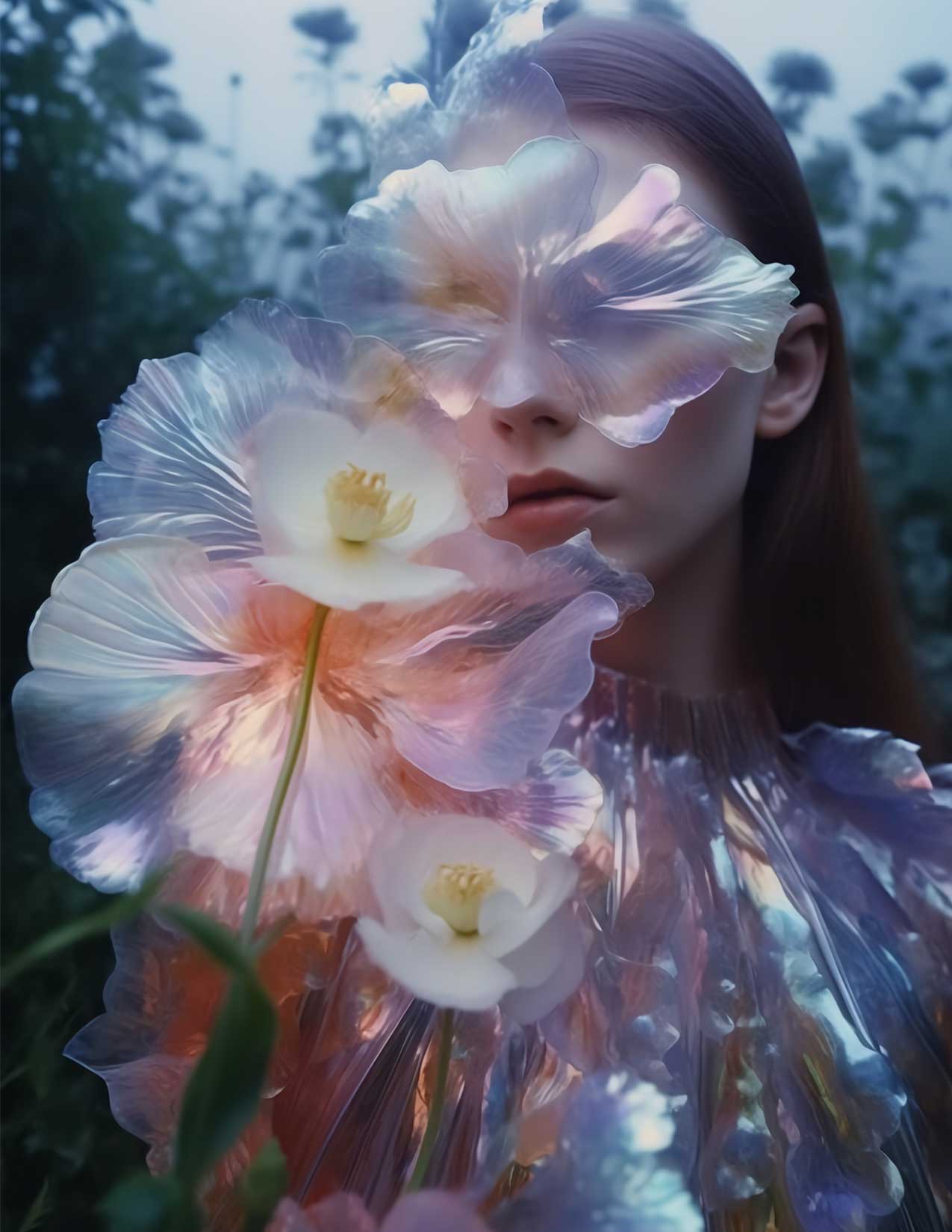 ---
Interview by Kayla MiChele
Career Advice
What is your best advice for aspiring beginner makeup artists trying to break into fashion and celebrity?
The best advice I can give to makeup artists who want to start in the industry is to be patient, to be passionate, to be resilient, to not give up. The truth is that it really is not easy, it's not an easy career and it's an industry that's hard to navigate.
I believe that it's necessary now to know how to use social networks to your advantage when you start to advertise yourself, to get seen, to attract the attention of the right people including your target customers and your dream client.
It's serious work but you also need to remember to have fun. It's a job that's fun and beautiful but also challenging. Living from your art is wonderful, but you have to be patient and have a lot of willpower.
So passion, patience and determination.
What kind of classes do you offer to makeup artists or others? Please tell me all the details!
I offer different formats of education. It can be demonstrations or workshops to help students master the technical side of makeup.
But what I like the most are the classes I give about the creative process. I help make-up artists reconnect with the artist within them and help them escape their comfort zone. When I help them unlock that side, the artistic side of their work, when they accept to be vulnerable and understand the importance of trial and error, that's really where I feel like I'm making a difference in their development as artists.
Background
How many years have you been a makeup artist?
Professionally it's been 12 years, but if you count the years I used to paint my friends during school breaks, then it's been 20 years!

What is your most proud moment in your career so far?
The fact that I get to travel the world doing something I love is really special to me. I'm also proud to have never given up on this career because I had a really rough start.
Who were your earliest influences in becoming interested in makeup?
It was my mother who introduced me to makeup when I was 13. She was the one who gave me my first Maybelline eyeshadow and showed me how to do a smokey eye. From there I used makeup to differentiate myself from others in high school. It kind of became my trademark.
What was your first makeup job experience?
My first makeup jobs were in high school, girls asked me to do their makeup for prom. I think I charged $30 and I only did the eyes! I had no idea how to do skin at the time.
Have you ever been a hair stylist as well?
I've tried a few times to get into hairdressing but it's not my thing. Hairdressers are sculptors and I personally prefer to paint.
Where do you live now? Have you lived in any of the fashion capitals or celebrity hubs like LA?
I live in Montreal but I travel a lot for my work. My agency is in Paris so it's a place I visit often. I might like to move there one day.
Inspirations
What are your main sources of inspiration for your makeup artistry?
My sources of inspiration are pretty much the same for make-up designing and for creating my AI digital images. I research a lot as I am very interested in art, different cultures, pop culture references, different decades, makeup and beauty in history, nature and even architecture.
I'm really looking for my inspirations everywhere and mixing references together to create something unique.
Products
What is a personal makeup product you use that you love the most?
I have a particular passion for all bold colors and products that work quickly, so I love the Color Fix line from Danessa Myricks. I also really like her multichrome eyeshadows which always add a magical touch to any look.
What skincare product is a must immediately replenish product that you love?
I always have Embryolisse Lait-Crème Concentré Face Cream and Makeup Primer in my kit and have for years, it has never let me down and it's the perfect product for beautiful, dewy and radiant skin. The way I like it!
See more of Marika's interview and AI magic – We Are All Made Of Stars | Supernova Glow Beauty
Sign up for our newsletter to stay in the know!
Exclusive Interview Series | Cash Lawless Tells All | Part 1
You're the muse of my dreams! Sending some love and good vibes your way! Thank you for being an important part of this beautiful community! Learn all the ways to support DB to help make the dream thrive! We hope you are enjoying our beauty expert curated advice and learning about the recommended products that we truly love! We value transparency and want to let you know that some of the links in this post may be affiliate links. This means that DB will collect a small share of the sale from any purchase you make from the products at no cost to you. Your support is valued!